The farm economy isn't in a great place. We get it and we want to help.
The good news is....nearly every year presents profitable opportunities for the vast majority of farms in the U.S. and Canada.
The key is having the knowledge and confidence to filter out the "noise" and take advantage of them.
When it comes to making farm management decisions, there tends to be two types of people:
Those that make gut-feel, reactive decisions.
Those that make educated, numbers-based, and proactive decisions.
Given the uncertainty you face with the weather and commodity markets, there is oftentimes no "textbook"-perfect decision. Our goal is to give you the knowledge to put the odds in your favor.
We want to help you grow your farm business knowlege with the ultimate goal of growing/protecting your equity and building a multi-generation farming legacy.
We also understand that.....
There are no shortage of people vying for your checkbook!
As a farmer, you've undoubtedly "heard everything" by now in the way of ROI promises.
"Our ABC product costs 1/2 a bushel of beans but is proven to give you a 3 bushel ROI."
We won't try to top any of them.
Nor will we try to insult your intelligence.
If you sign up for our Business of Farming/Grain Marketing course and/or our farm management software, money won't rain from the sky. You won't magically market your grain in the top 10%....pick up another 1,000 acres of land next year....or increase your profit margin by 50%.
Furthermore, should you obtain success it will be due to your own skills and ability (and maybe a bit of good luck).
What, then, can we do for you?
The answer depends on what type of producer you are or want to be. If you're looking for a grain marketing crystal ball...not interested in better managing your farm's risk....or don't care about optimizing your farm's profitability....then forget about Harvest Profit.
We won't be a good partner for you.
If, on the other hand, you are the type of producer looking for strategies, knowledge, best practices, and tools that will help you make confident and long-term profitable farm finance decisions....
Then investing in our course will likely be a great decision for your operation.
Continuous farm improvement
There's an old saying that if you're a jack of all trades, you are a master of none.
We do not agree!
You are a master of one or more roles on the farm. But you likely aren't the master of them all.....
Agronomist
Precision Ag Specialist
Grain Merchandiser
Asset Allocator
Mechanic
Director of HR
Operator
Economist
And on and on....
Your key area of focus going forward should always be to strengthen your weaknesses!
Key Action Item: Find and fix your weakest link

Is risk management or farm finance an area of improvement for your operation?
If so, you've came to the right place.
We understand the difficulties you face in today's low margin environment
In today's volatile farm economy, being a great farm business manager is no longer a trait of the most successful farms. It's a requirement of all farms. We're here to help.
Harvest Profit is dedicated to helping producers lay the groundwork for a successful, multi-generation farming business.
On Wednesday, August 26th, we are opening our Business of Farming course. We are offering a special price until Friday, August 21st at 3:00 PM CT.
You will have access to this course, and all future upgrades, forever!
Lets take a look at the course first.
The Course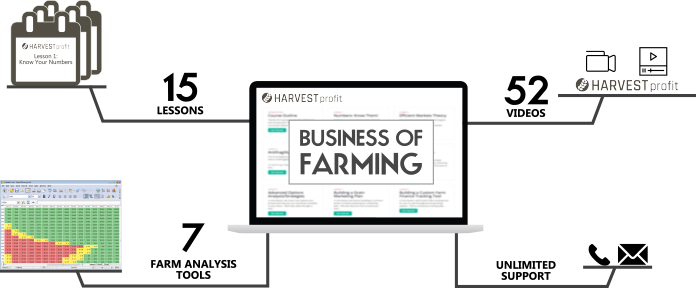 This is an online course that's "dripped" over a 4-week period, although you can move through it at your own pace.
Here are the key goals of the course.
Make confident, proactive decisions.
Choose the right marketing tool for the right job.
Market your grain like a grain elevator and add $.20/bu (or more) to your bottom line.
Use futures and basis seasonality to your advantage.
Build custom cost of production, P&L tracking, and marketing position analysis tools.
Understand your farm's "health" on an ongoing basis.
Evaluate and negotiate farm rent contracts.
How to incorporate sales/marketing best practices from other industries
Evaluate on-farm and off-farm investment opportunities.
How to optimize your balance sheet for long-term equity growth
And much more!
Great course! I had a general understanding of grain marketing tools & principles. After taking your course I have the confidence and understanding to use those tools & principles to reach my farm income goals. It has helped me to take a much better approach to marketing my grain & taking the emotions out of it that have work against me in the past. Keep up the good work!
Noah Jacobson - Hickman, NE
Curriculum
Section 1
Lesson 1 - Course Introduction
Lesson 2 - Numbers: Know Them!
Lesson 3 - Spreadsheet Tips & Tricks
Lesson 4 - (Weak) Efficient Market Theory
Lesson 5 - How to Benefit from Volatility
Lesson 6 - Grain Marketing Tools & Timing
Section 2
Lesson 7 - Commercial Grain Strategies
Lesson 8 - Advanced Options Analysis/Strategies
Lesson 9 - Using Statistics to Make Better Grain Marketing Decisions (NEW)
Lesson 10 - Building a Marketing Plan
Lesson 11 - 14 Traits of Successful Grain Marketers (NEW)
Section 3
Lesson 12 - A Real-Time Farm Income Statement is Vital
Lesson 13 - Farm Financial Statement Analysis
Lesson 14 - Behavioral Finance on the Farm (NEW)
Lesson 15 - First-Class Farm Productivity Tools
Section 4
Lesson 15 - Farm Rent Structuring and Negotiating
​Lesson 16 - Long-Term Farm Planning
Lesson 17 - Off-Farm Investments
Lesson 18 - Course Summary
Working with Nick and his partners has kept me focused on what matters on my farm, the bottom line. I'm using this downturn as an opportunity to invest in the future of farming.
Kevin Nelson - Glyndon, MN
We've reviewed the financials of farms covering over 1 million acres.
We've distilled best practices that we've seen on these farms for you into an easy-to-follow, mobile-responsive online course.
Nick's advice and guidance have helped my farm navigate the volatile and emotional cycles of the last 6 years. I highly recommend his common sense approach.
Gary Friskop - Wahpeton, ND
Volatile commodity markets lead to indecision and reactive farm business decisions. For a farm to succeed in today's volatile farm economy, it needs to have a system in place to make proactive farm business decisions. This course will help you lay that groundwork or improve your current systems.
Our Mission
Our mission is to help producers like you make more profitable and accretive farm business decisions. Being that we are 100% employee owned and don't sell any inputs, we only answer to you.
We look forward to hopefully working with you and helping you grow your farm's bottom line!
Sign up for the course below to get started today.
---
Frequently Asked Questions
Do the classes have set times?
No, we're going to release the courses in four weekly modules but you can proceed at your own pace. You'll have access to the course forever so consume the content whenever it's convenient for you.
How is the course material delivered?
The course content is presented via videos, articles, white papers, and example templates/spreadsheets. The content is delivered on a web-based portal that is mobile responsive and easily viewed on your smartphone.
Is the course available on my device?
The course is delivered via a custom web-based classroom we developed specifically for farmers (best used with Google's Chrome browser). Android and iOS applications are in the pipeline.
When will I receive access to the course?
You will receive access to the course on Monday, August 5th. And you'll have access to it forever!
Is the course appropriate for Canadian farms?
Definitely! The content is relevant for all types of farms. From corn/beans operations, to specialty crop farms, to livestock operations this course covers topics that apply to all farm businesses.
Do I need previous experience with futures/options?
No, the course is designed to provide value to both beginners and experienced grain marketers.
When will I receive my log-in credentials?
You'll receive your log-in credentials as soon as you sign up.
When does my course access expire?
You'll have access to the course, and all updates, forever.